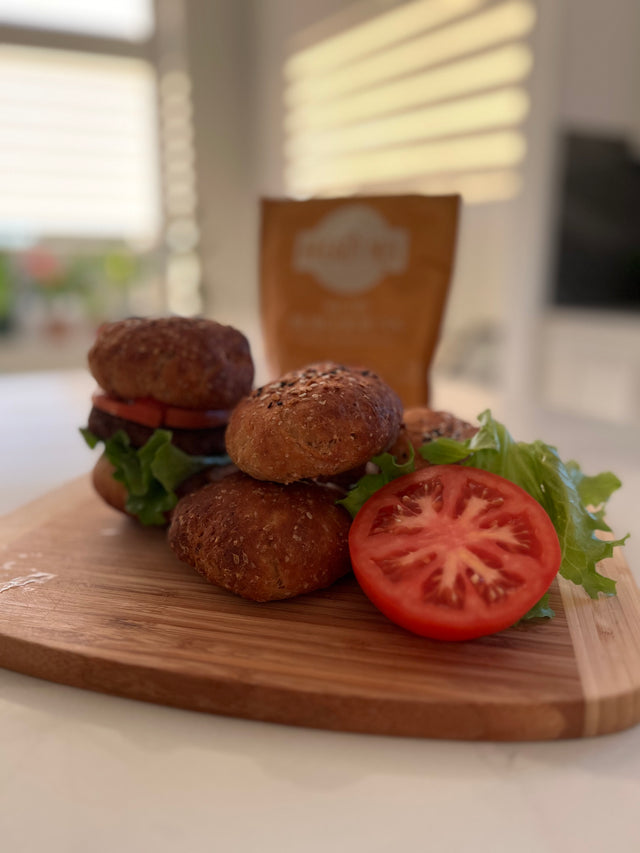 RECIPES
Keto Burger Buns
FEBRUARY 01, 2023
Save Up To 40% Off Your Groceries!
These Burger Buns are KETO Certified by the Paleo Foundation and supports a keto, low-carb, high-protein and vegan diet without compromising on flavour. Add your favourite veggies and you will have the perfect burger. Simple, just add hot water to this mix and a fresh burger buns will be bread-y in no time!
Ingredients
1 Bready Mix: Keto Burger Buns

1 ⅓ cup (230 ml) of warm water
Instructions
Combine Bready Mix Burger Buns with 1 ⅓  cups of warm water. Mix for 7-8 minutes with a mixer at low. Once complete, the dough should come out smooth and firm.

Preheat your oven to 350° F. 

Cover dough with a damp kitchen towel and let rise for 30 minutes.

Split dough into 6-8 parts and either add to mold or mold with hands to desired burger bun shape.

Place in the oven and bake for 20-30 minutes or until the top is golden brown.

Let cool and enjoy!
These Keto Burger Buns are featured as a Peko Pantry item. For more, check out this short video of one of our Peko Pals making these delicious burger buns or click here to purchase one for yourself!