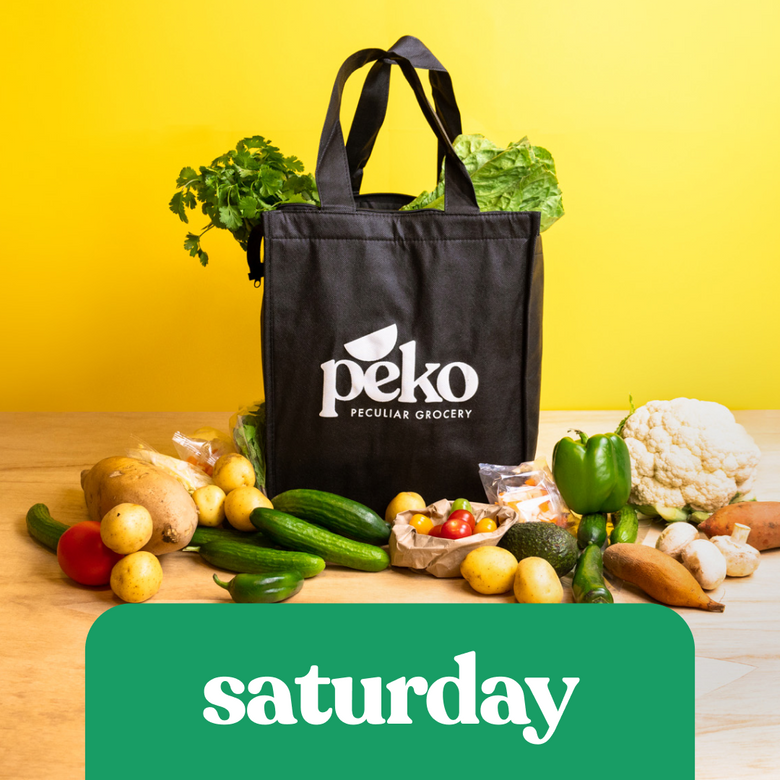 Peko Produce Bag - Saturday Delivery (Metro Vancouver)
Peko Produce Bag - Saturday Delivery (Metro Vancouver)
Pre-order by end of day Wednesday (11:59 PM PT) to receive a delivery every Saturday. For a calendar visualization, please see more under the toggle "Delivery" below.
Explore new culinary experiences with this sustainable rescued produce bag featuring a random assortment of conventional and organic produce. 
Tip: subscribe to save 10% upfront! 
---
Before Placing Your Order, Let's Confirm That You Fall Within Our Delivery Area:
Please input your postal code in the checker below:
WAITLIST
---
Description
A Peko bag can be best described as a mystery produce bag. Each bag contains:
🥑  13+ lbs of "peculiar" and surplus produce.
🍅  9 to 10+ varieties of "imperfect" fruits and vegetables 
🛍️  Comes with an insulated tote bag & complimentary soft plastic recycling. Return both by leaving them in front of your door on the next delivery!
🌱 $1 is donated to the Vancouver Food Runners & the Food Stash Foundation for every sale.


*Picture is for reference only, and is not representative of our mystery produce bag at any given week. We tend to have 80-90% vegetables and do not guarantee organic or any customization. For more information, please visit our FAQ.
Delivery
We aim to deliver between 11AM - 7PM every Thursday and Saturday. You will receive a tracking link via SMS on the day of, if you input a valid Canadian phone during check-out.
IMPORTANT:
To avoid failed deliveries and porch pirates, please confirm the following:
Address Line 2: input your unit number

Delivery Instructions: input your buzzer and other specific requests, such as leaving the shipment at a common area.
Your bag will NOT be delivered should we not have 1 of the 2 following pieces of information, and will be tried again on a second delivery attempt. We offer 2 delivery attempts on the same delivery day. If you are not available for this second delivery attempt, the driver will leave your bag outside the main door of your building. Please note that we are not liable for unforeseen losses in this case.
If you have a delivery within the next 2 days and would like to reschedule or cancel, please email us with the subject title [Peko - URGENT DELIVERY ISSUE] or call our friends at Fresh Prep at 604-569-2699 for immediate assistance. All purchases are non-refundable after the pre-order deadline and your bag will be donated should you choose to not receive it.
Delivery Calendar
⬤
Saturday Subscription Billing (11PM PST)
⬤
Saturday Order Deadline (Midnight PST)
⬤
Saturday Delivery
Customizations
Unfortunately, we are unable to accommodate customization to our mystery produce bag under any circumstances, including dietary restrictions.
We encourage you to join our Pekommunity Facebook Group where you can exchange produce with your fellow Peko Pals! ☺

While we can't tell you exactly what you'll get, here's how you can meal plan around Peko's mystery produce bag:
🔍 Explore what's In Your Bag - learn more about the produce you might receive, their storage tips & recommended recipes.
👨‍🍳 Check our Peko's recipes - find some delicious recipes crafted and curated by our Peko Pals, inspired by the produce in your Peko Bag. 
🌱Join our green & growing Pekommunity - a safe space to find inspiration, ask questions and share cool tips with your fellow customers and the Peko team.
Communications
📧  Sign up for our email newsletter, or tick the bag "Email me with news and offers" during check-out.
📱 Follow us on social media - you can get most updates, tips, and cooking inspiration here.
We won't spam you. Here's what you can expect from our emails:
👉  Important announcements, exclusive deals, and career opportunities.
👉  Weekly pre-order reminders on Monday & Wednesday if you're not a subscriber.
👉  "In Your Bag" email on Friday: info on the produce you could receive, tips to extend their shelf life, recipe suggestions, and $ savings on your order.
Payments
We offer one-time payment, weekly / bi-weekly / monthly subscriptions. We accept credit and debit cards. All payments are processed securely through our respective payment platforms.
For more information, please visit our FAQ.
Couldn't load pickup availability