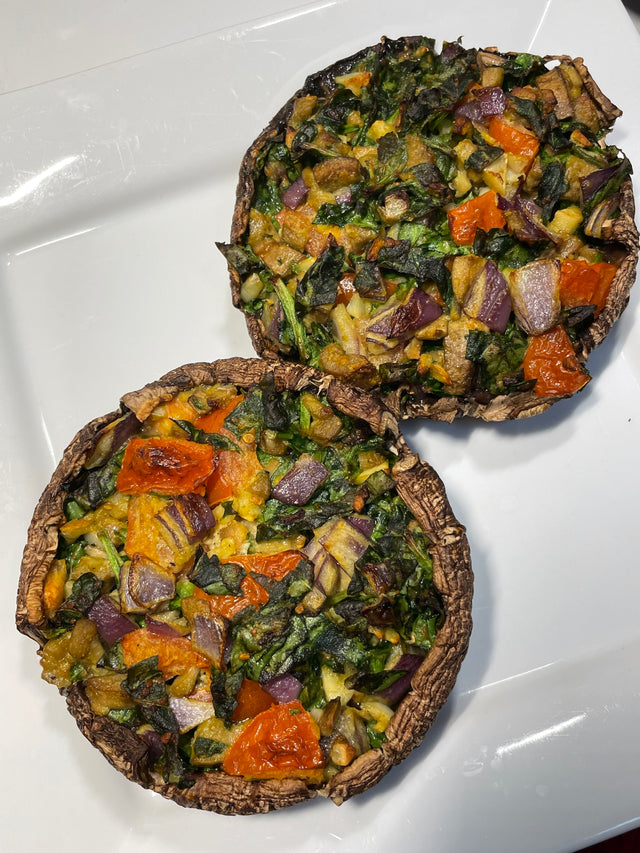 RECIPES
Stuffed Portobello Mushrooms
APRIL 06, 2023
Save Up To 40% Off Your Groceries!
Need more mushroom recipes? Say less! 
Ingredients:
2 large portobello mushrooms
1 tablespoon olive oil
½ medium onion (chopped)
2 cloves garlic (minced)
½ medium bell pepper (chopped)
1 cup spinach (chopped)
1 tomato (chopped)
nutritional yeast to taste 
salt and pepper to taste
Instructions:
Preheat oven to 400°F.
Carefully remove stems from mushrooms, reserve and chop the stems for the stuffing. Place the mushrooms stem side down onto a baking pan. Bake for 10 to 15 minutes until the water leaks out of them. Remove from the oven and using paper towels soak up excess water. Set aside.
Mix all chopped vegetables in a bowl. Season with nutritional yeast, salt and pepper. 
Stuff the mushrooms with mixture. Top with more nutritional yeast if desired.
Bake for 15-20 minutes.
Check out our Instagram or TikTok accounts to watch one of our Peko Pals make this recipe!