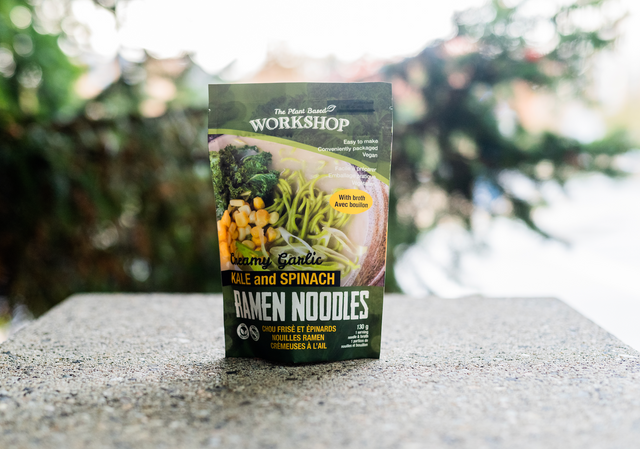 RECIPES
Creamy Garlic Kale and Spinach Ramen
DECEMBER 09, 2022
Save Up To 40% Off Your Groceries!
What's better than a delicious plant based ramen from the comfort of your home? Just imagine: listening to the rain patter on the roof while curling up on your favourite couch with a bowl of hot and delicious ramen to nourish the body and soul. Call us a hopeless ramen-tic, but it seems like the perfect match! The best part of our ramen kits? They are part of our pantry items that have been saved from the landfill due to being overstocked! 
Ingredients:
1 The Plant Based Workshop Creamy Garlic Spinach and Kale Ramen Kit
Optional: Garnish of choice
Instructions:
Boil 2 cups (500 ml) water in pot

Stir in ramen noodles. Bring to a boil. Cook for 3 minutes or until desired firmness. Stir occasionally.

While noodles are cooking, add 300 ml of boiled water and soup pack contents into a serving bowl. Mix well.

Drain noodles.

Gently place noodles in soup. Garnish with your favourite toppings. Enjoy!
*Must be fully cooked before eating


The Ramen Kit is featured as a Peko Pantry item. For more, check out this short video of one of our Peko team members making this delicious ramen or click here to purchase one for yourself!