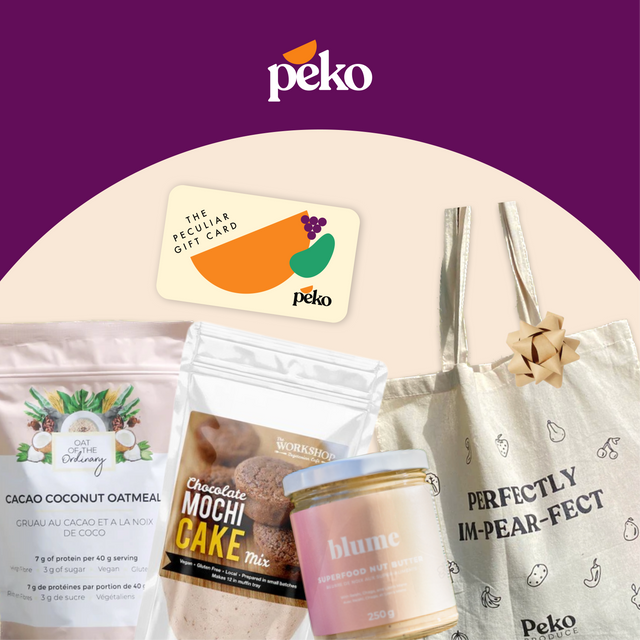 KNOWLEDGE HUB
Gift Sustainably with Peko Holiday Bundles!
DECEMBER 05, 2022
Save Up To 40% Off Your Groceries!
With the weather getting colder and days feeling shorter, that can only mean one thing. The holiday season is upon us! This year, Peko has introduced a new way of sustainable gift giving with our new limited time Holiday Bundles. These bundles are perfect for anyone you know who loves to cook, bake, are passionate about food waste, or live an eco-conscious & low waste lifestyle.
Peko has two different bundles to choose. First, we have the perfect gift for any bakers out there, the Peko Baking Bundle for $35.00, valued at $51.00! Explore baking experiences made eco-conscious and socially impactful. Enjoy an additional 10% off our gluten-free and plant-based pantry items, thoughtfully packed in our holiday-themed "Perfectly Im-pear-fect" tote bag. This tote includes the Cacao Coconut Oatmeal, Vanilla Cupcake Mix, and Chocolate Mochi Mix. The highlight of the Peko Baking Tote is that our pantry items are rescued due to being overstocked, or mislabelled from local businesses. You are not only giving the gift of a baker's dream, but you are helping reduce unnecessary waste from ending up in the landfill!
Delicious, eco-friendly, and socially conscious = the full Peko experience! Meet the Peko Holiday Bundle for $65.00, valued at $82.00! Enjoy an additional 10% off our gluten-free & plant-based favourites with this limited edition bundle, thoughtfully packed in our holiday-themed "Perfectly Im-pear-fect" tote bag. It includes the Cacao Coconut Oatmeal, Chocolate Mochi Mix, Blume Nut Butter and a $30.00 Peko Gift card for your loved ones to purchase their own one-of-a-kind mystery produce box. With each box, they can expect a random assortment of local and organic produce where they can unleash their culinary dreams.
By gifting with Peko, you are helping reduce food waste and empower access to affordable, healthy diets. 58% of all food produced in Canada is wasted or lost every year. Within produce alone, $3.1 billion worth is rejected every year purely for cosmetic reasons. Meanwhile, Canada is experiencing the highest increase in food costs since 2010, translating to $695 per family of four annually.
What are you waiting for? Celebrate with Peko by joining us in our journey to fight food waste this holiday season with sustainable gift giving!
**This limited-edition bundle only delivers on Sunday, December 18. Please pre-order by Thursday noon, December 15 to qualify. Read more on how to order here.