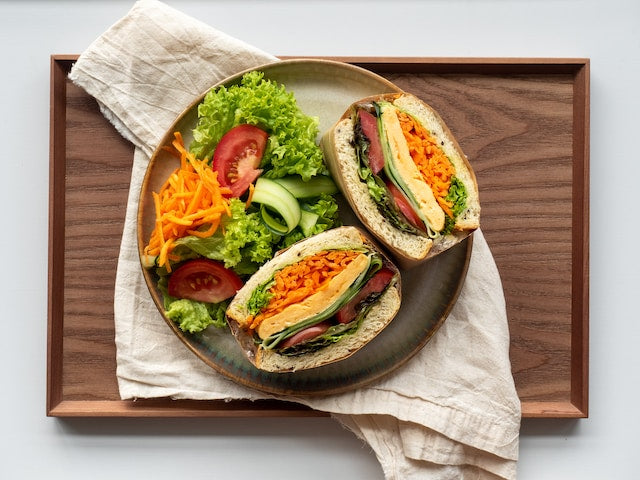 RECIPES
Roasted Sweet Potato and Apple Sandwich
AUGUST 09, 2023
Save Up To 40% Off Your Groceries!
Looking for a hearty and delicious sandwich that's perfect for any time of the day? Look no further than this Roasted Sweet Potato and Apple Sandwich! Featuring sweet and savoury flavours, this sandwich is filled with roasted sweet potatoes, crisp apples, and a creamy spread. Whether you're looking for a satisfying lunch or a filling dinner, this sandwich is sure to hit the spot.
Ingredients:
1 large sweet potato washed and cut into 1/4-inch thick rounds

1 tbs olive oil

Salt and black pepper to taste

4 slices of bread

1/3 cup chopped kale

2 tbs basil pesto

1 Granny Smith apple cored and thinly sliced

1/3 cup feta cheese
Instructions:
Preheat the oven to 400 degrees F. Place the sweet potato rounds in a medium bowl. Drizzle with olive oil and toss to coat.

Place the sweet potatoes on a large baking sheet, in a single layer. Season with salt and pepper, to taste. Bake until the rounds are browned and tender, 20 to 25 minutes. Remove from the oven and let cool.

To assemble the sandwiches, lay two pieces of bread on the counter. 

Add the kale. Top with sweet potato rounds. Drizzle the pesto over the sweet potatoes. Next, add the apple slices. Top with feta cheese and the second slice of bread. 

Cut in half, if desired, and serve!
Source: