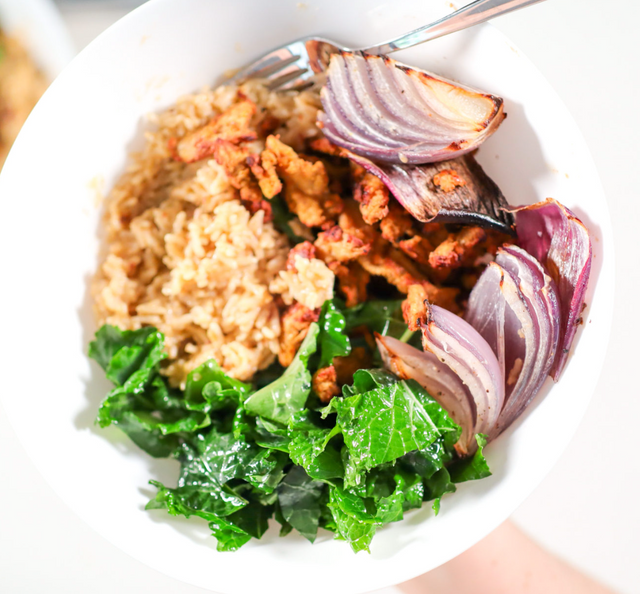 RECIPES
Nourish Bowls with Spicy Coconut Rice
JULY 27, 2022
Save Up To 40% Off Your Groceries!
Recipe by @steamyvegankitchen
This bowl's got it all – sweet, spicy, creamy and crunchy. Fill your tummy happy and make some Nourish Bowls with Spicy Coconut Rice!

Ingredients:

2 cups kale, roughly chopped

1 tbsp sesame oil, divided
1 cup dry soy curls
1/4 cup nutritonal yeast
2 tbsp tamari or GF soy sauce
2 tbsp maple syrup
1 red onion, peeled and quartered
For the spicy coconut rice:

1-2 chipotle peppers in adobo sauce, minced (1 for less spicy)

1-2" chunk of ginger, peeled and minced (1" for less spicy)
2 cups canned coconut milk (1 can = just under 2 cups, add water to make 2 cups)
2 cups veggie broth or water
2 cups brown basmati rice, rinsed
zest of 1 lime
1/2 tsp salt

Instructions:

Preheat oven to 425F. In a large bowl, pour boiling water over the dry soy curls (cover by 2") to rehydrate. Let sit for 10 minutes, then strain out the water and press out remaining liquid with back of a spoon.

Transfer soy curls back to the large bowl, then add in the GF soy sauce or tamari and maple syrup, and stir to thoroughly coat each piece. Add the nutritional yeast and stir again to combine thoroughly. Transfer to a parchment lined baking sheet.

Add the peeled and quartered red onion to the baking sheet. Drizzle 1/2 a tbsp of sesame oil overtop, season with black pepper and a pinch of salt, and massage the seasonings into the onion with your hands.

Bake the soy curls and red onion on the top rack of the oven for 30-35 minutes, flipping halfway, until the soy curls are golden and crispy and the red onion slightly charred.

While they're baking, turn on your Instant Pot and turn on the sauté function at medium temperature. Heat 1 tbsp of sesame oil, and once hot, add the minced chipotle peppers and ginger to the pot. Saute for 3-4 minutes, stirring often to prevent burning, until golden and fragrant.

Add the rinsed basmati rice to the pot, and stir into the aromatics to combine. Pour in the coconut milk and veggie broth, and add the lime zest and salt. Stir well to combine. (TIPS:

 

1) If your coconut milk is solidified, let it melt completely in the pot before sealing the lid to cook. 2) If your veggie broth is hot beforehand, it will help reduce how long the Instant Pot takes to come to pressure)

Turn off the sauté function by pressing CANCEL. Press the 'RICE' setting and cook for 10 minutes on high pressure (I can't change the time on rice setting, but I believe some models of IP can, mine automatically sets to 10 minutes). Once finished, let the pressure naturally release completely.

While the rice cooks, chop your kale and place in a large mixing bowl. Drizzle remaining 1/2 tbsp of sesame oil and massage into the kale with your hands, until each piece is coated and the kale has softened slightly.

In two bowls, fill with cooked rice, kale, soy curls and 2 red onion quarters each. (Optional) garnish with fresh lemon juice, black pepper and/or green onions. Enjoy!