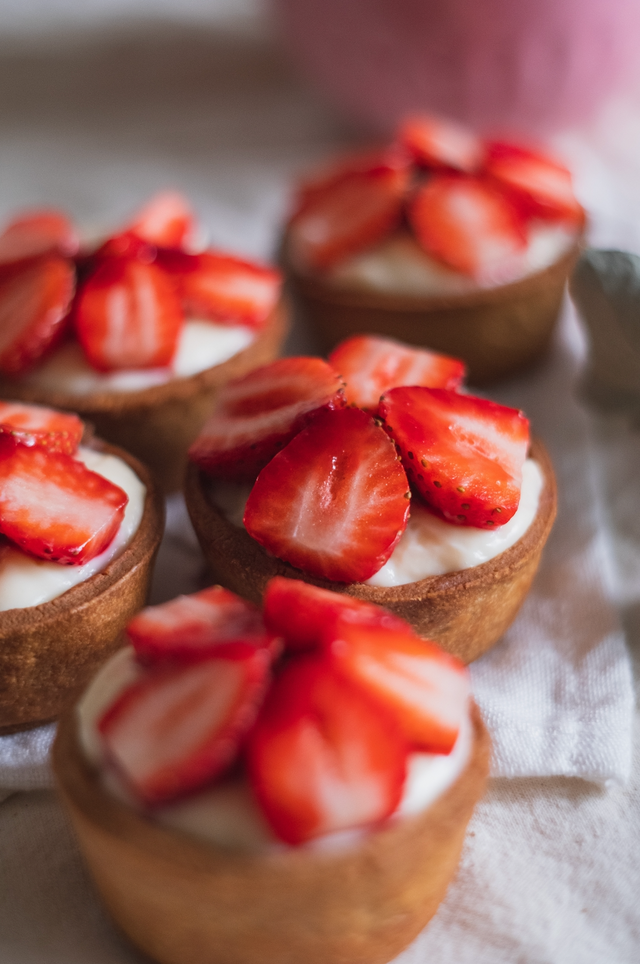 RECIPES
Fruit Tarts
FEBRUARY 07, 2023
Save Up To 40% Off Your Groceries!
Cupid is calling! The season of love is officially upon us and what better way to share your appreciation than a homemade dessert. This tangy fruit tart is smooth, fluffy, and hard to resist! The combination of a flaky crust, sweet filling and topped with your favourite fruits is mouth watering. 
Tart Ingredients:
All-purpose flour, for dusting

2 sheets frozen puff pastry, thawed 

1 pint blueberries 

2 cups halved strawberries 

1/3 cup granulated sugar 

2 teaspoons cornstarch

1 lemon, juiced 

Pinch of salt

2 tablespoons heavy cream
Whipped Cream Ingredients:
1 cup heavy cream

1/4 cup powdered sugar, plus more for serving 

1 tablespoon vanilla 

1/4 cup fresh mint leaves, for garnish
Instructions:
For the tarts: Preheat the oven to 425 F. Line 2 sheet pans with parchment paper.

On a lightly floured work surface, lay out the puff pastry. Cut the puff pastry sheets in half, making 4 rectangles. Place 2 puff pastry rectangles on each sheet pan. Set aside.

Add the blueberries and strawberries to separate bowls. Divide the granulated sugar, cornstarch and lemon juice between the bowls. Season each with a pinch of salt and stir until well combined.

Divide the blueberries between 2 of the puff pastry rectangles, leaving a 1/4-inch border on all sides. Do the same with the strawberries and the remaining puff pastry rectangles. Pinch the corners of each rectangle, creating a slight lip. Brush the edges with the cream.

Bake in the lower half of the oven until golden and crisp, about 20 minutes.

For the whipped cream: While the tarts bake, add the cream, powdered sugar and vanilla to a large bowl. Using a hand mixer or whisk, whip until soft and billowy. Transfer to a serving bowl and chill until ready to serve.

Transfer the tarts to a cutting board. Let the tarts cool slightly before slicing. 

Serve alongside the whipped cream and enjoy!
Source: