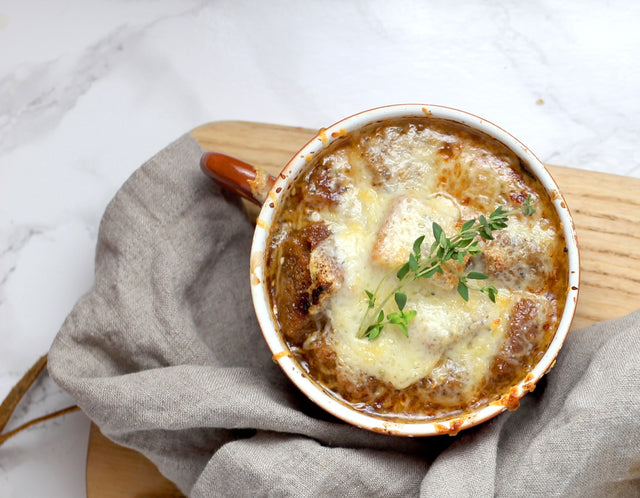 RECIPES
French Onion Soup
FEBRUARY 19, 2023
Save Up To 40% Off Your Groceries!
A classic dish made with caramelized onions, your favorite broth and gooey cheese to achieve the ultimate cheese pull. It is a global (and Peko) favourite you can make in the comfort of your own home!
Ingredients
2 tablespoons salted butter

3-4 large onions (about 3 lbs. total), peeled and sliced

1 clove garlic, peeled and minced

2 teaspoons minced fresh thyme (or ½ teaspoon dried thyme)

8 cups beef broth

1 tablespoon Worcestershire sauce

1 bay leaf

1 tablespoon balsamic vinegar

Salt and pepper, to taste

1 baguette, sliced into ¾-inch thick rounds

8 ounces Swiss or Gruyere cheese, shredded
Instructions
Melt the butter in a large soup pot over medium heat. Add the onions and saute for 20 minutes, stirring frequently. Add the garlic and saute 10 minutes more.

Add the thyme and 1 cup of the beef broth. Deglaze the pan, stirring to loosen the cooked pieces on the bottom. 

Add the remaining beef broth, Worcestershire sauce and bay leaf. Increase the heat to medium-high and bring to a boil. Reduce the heat to low and simmer for 20-30 minutes. Stir in balsamic vinegar and season with salt and pepper, to taste. Discard bay leaf.

Adjust an oven rack to the middle position and heat the oven to 400 degrees F. While the soup is simmering, arrange the bread slices on a baking sheet and toast in the oven just until barely browned (about 5 minutes). Remove and set aside.

Switch the oven to the broiler. Place oven-safe soup bowls on a rimmed baking sheet. Ladle soup into the bowls. Top each bowl with 2 slices of toast and sprinkle with about ¼ cup of cheese. Place on an oven rack about 6 inches from the heat and broil for 2-3 minutes, or until the cheese is melted and bubbly. Keep a close eye on the broiler so that the bread and cheese don't burn.
Sources: