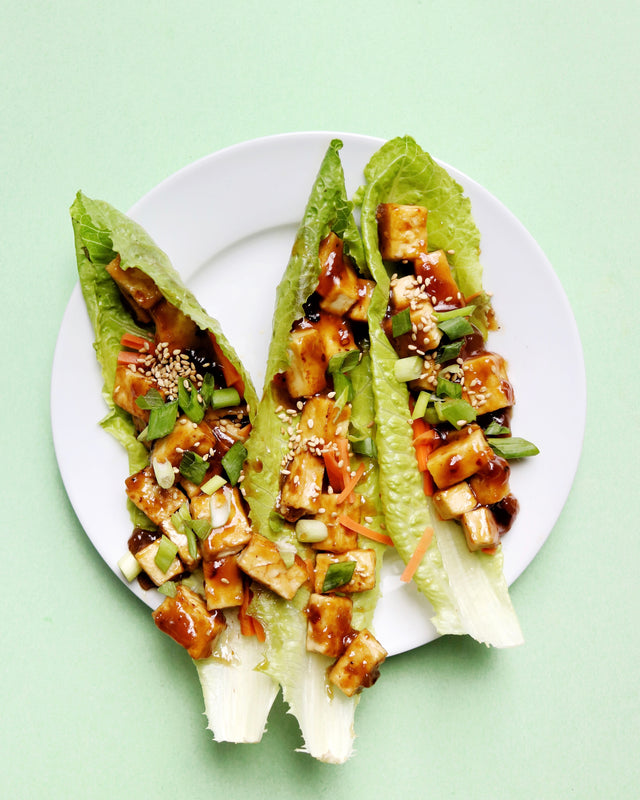 RECIPES
Crispy Tofu Lettuce Cups
MAY 18, 2022
Save Up To 40% Off Your Groceries!
An easy & delicious protein-packed dish in 15 minutes! Flavourful and perfect for warm summer days with crispy tofu and fresh vegetables.
Ingredients:
Sauce:

3 tbsp soy sauce (gluten-free if needed)

1 tbsp hoisin sauce

1/2 tbsp rice vinegar 

1 tsp sesame oil 

2 cloves garlic, minced 

black pepper, to taste 

Filling:

1 block firm tofu (~350 g), crumbled or cubed 

1/2 medium onion, diced 

1/2 medium carrot, diced 

4 cremini mushrooms, diced 

1 green onion, sliced 

vegetable oil

Wraps:
Instructions:
Sauce: In a small bowl, combine the soy sauce, hoisin sauce, rice vinegar, sesame oil, minced garlic, and black pepper. Stir well.

Tofu: In a medium pan, heat some vegetable oil in medium-high heat. Fry the cubed/crumbled tofu until golden and crispy (~5 minutes). Add approximately half of the sauce, and coat the tofu well. Set the tofu aside on a plate.

Vegetables: In a medium pan, heat some vegetable oil in medium-high heat. Add the diced onions, and sweat them out for ~4 minutes before adding the carrots and mushrooms. Cook the vegetables for another 3 to 4 minutes, and add in the rest of the sauce. Sauté until the sauce is absorbed (~2 to 3 minutes), and toss in the tofu to combine.

Assembly: Spoon the filling into the romaine leaves. Garnish with green onions & enjoy!
Tip: Top with avocado and/or peanuts for an extra li'l something :)