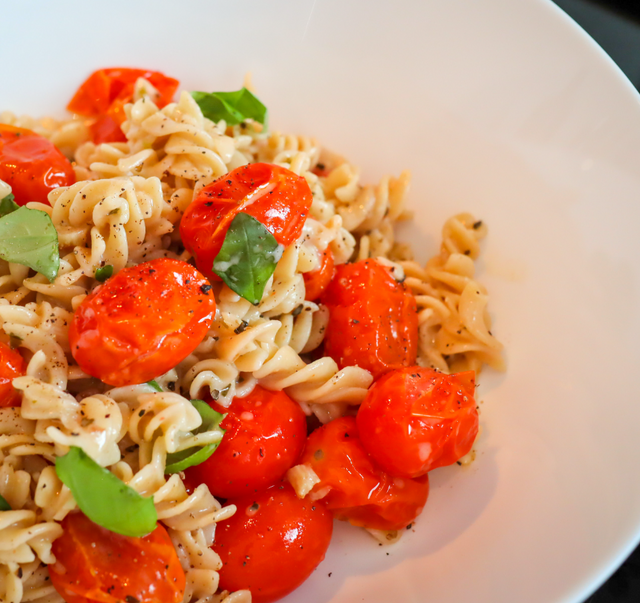 RECIPES
Baked Feta Tomato Pasta
JULY 27, 2022
Save Up To 40% Off Your Groceries!
Recipe by @steamyvegankitchen
Have you heard of the Baked Feta Tomato Pasta that broke the internet? If you are a little late to the TikTok party… let me show you a veganized and gluten-free version of the sensational internet pasta!

Ingredients:

1 package gluten-free pasta (penne, fusilli, rotini, or shells are great)

2 1/2 cups cherry or grape tomatoes

1 block vegan feta cheese (I used 'Violife' brand)

2 tbsp olive oil

2-4 cloves garlic, minced

zest of 1 lemon

1 tsp dried oregano

1/2 tsp salt, pepper to taste

1/2 cup fresh basil, chopped
Instructions:

Preheat oven to 400°F, and cook pasta noodles according to package directions.

In a medium casserole dish, add the tomatoes, minced garlic, olive oil, salt and pepper, and lemon zest. Mix until well combined.

Create a space in the middle of the mixture and place the block of vegan feta cheese inside it. Sprinkle the oregano over everything.

Bake in the oven on the top rack uncovered for 25-30 minutes, until the cheese has melted and the tomatoes have roasted and released their juices.

Add the cooked pasta directly into the casserole dish and mix until its well combined in the sauce. Serve and garnish with fresh chopped basil. Enjoy!